"P" is for Princess shirt above (curly girl font)
Custom towels monogrammed for birthday party favors (sweet font above).
The Mom's were raving about the towels! What a unique party favor idea!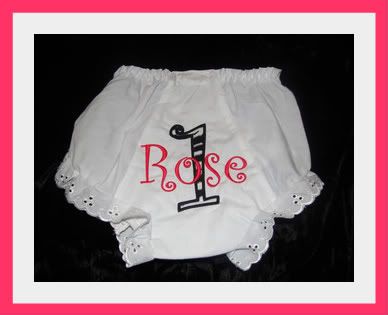 Custom monogrammed bloomers size 0-6 up to 4T! Designs above a Princess Crown, Zebra Heart Applique, Daisy, Cupcake, and Zebra #1. Also sweet with just the baby's names. Many more designs and fonts to choose from!


Custom pillows for baby gifts, wedding, anniversary, and birthday! You choose from three different pillow sizes-11X15 linen, 11X15 cotten scalloped, or 8X8 linen.